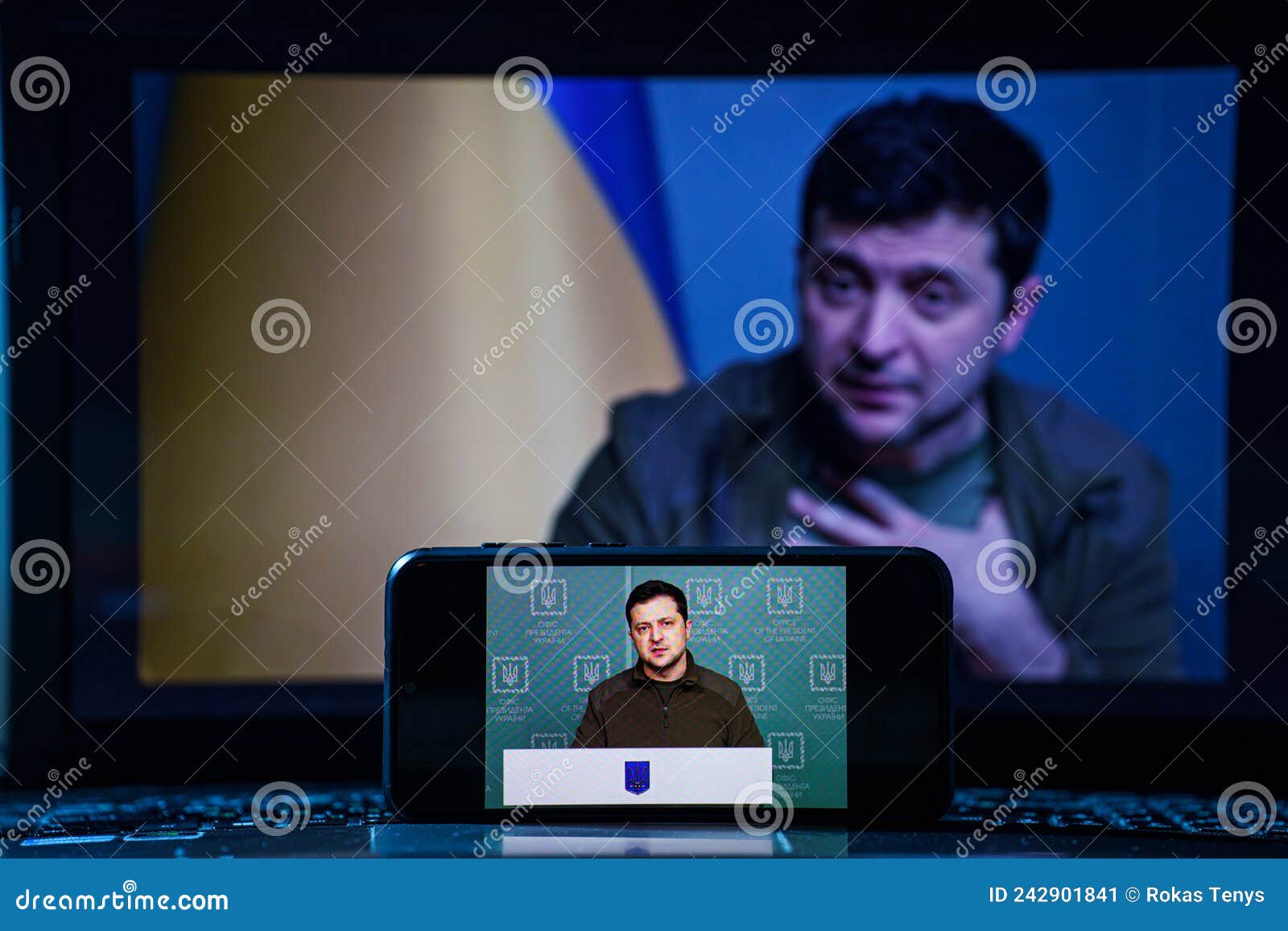 [Royalty Free image of Pres. Volodomyr Zelensky from Dreamtime.com]
On Wednesday, March 16, President Zelensky spoke to members of Congress seeking support, specifically to block Russia from Ukrainian airspace, a no-fly zone. Pres. Zelensky explained that  Ukraine has been struggling in the past 8 years, and that this could be crucial to the survival of Ukraine against the onslaught of Russian invasion.
President Zelensky also referenced Pearl Harbor, events of 9-11, and other events which had left Americans feeling vulnerable in the past, in asking Congress to take action against Russia in support of Ukraine. President Zelensky suggested that if the US was unwilling to assist Ukraine in creating a no-fly zone, that Ukraine was amenable to an alternative option, which would be to provide Ukraine with aircrafts so that it could defend itself against Russia.
Pres. Zelensky also thanked Congress and Pres. Biden for swift action in establishing the warmongering members of Russia as war criminals, of setting up major financial sanctions so far, and encouraged that more and more severe sanctions be put in place until Russia left Ukraine, including blacklisting members of the Russian Dumas.
He emphasized the importance of prioritizing peace over financial interest and to stop the war. He also suggested the creation of a new union that could protect countries from war, natural disasters, and other crises.
He then asked Congress to watch the video of pre-Russian invaded Ukraine and Ukraine since, completely waitron and destroyed due to Russian bombardment.
After using a translator, Pres. Zelensky spoke directly in English:
Today the Ukrainian people are defending not only Ukraine, we are fighting for the values of Europe and the world, [inaudible] in the name of the future. That's why today the American people are helping not just Ukraine, but Europe and the world, to keep the planet alive, to keep justice in history. Now I'm almost 45 years old. Today my age stopped when the heart of more than 100 children stopped beating.
I see no sense in life if it cannot stop the deaths. And this is my main issue as the leader of my people, great Ukrainians, and as the leader of my nation, I am addressing the President Biden, you are the leader of the nation, of your great nation. I wish you to be the leader of the world. Being the leader of the world means to be the leader of peace.
Thank you.
Glory to Ukraine.
Coree ILBO copyright (c) 2013-2022, All rights reserved.
This material may not be published, broadcast, rewritten, or redistributed in whole, or part without the express written permission.