On April 29, China launched a Long March 5B Rocket, the country's first new space station into orbit around the Earth. As a result, a huge piece of space junk is set to collide with Earth's atmosphere this weekend with pieces of debris landing elsewhere on Earth.
The Aerospace Corporation announced on Twitter, "Our latest prediction for CZ-5B Rocket body reentry is: 09 May 2021 03:43 UTC ± 16 hours Reentry will be along [with] one of the ground tracks shown here. It is still too early to determine a meaningful debris footprint."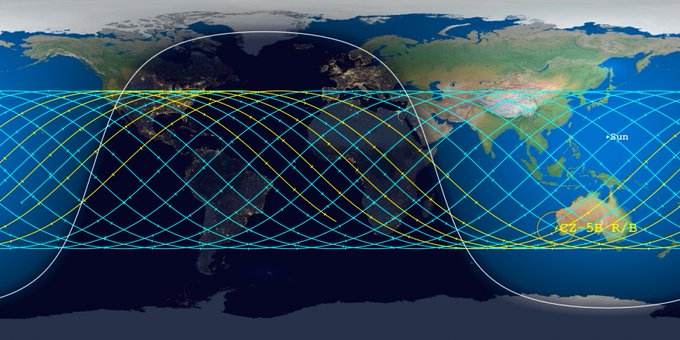 (Picture obtained from The Aerospace Corporation's Twitter page)
Although Chinese officials initially applauded the launch of the 5B Rocket, the core stage which does the heavy lifting to get the space station into orbit initially failed and fell back towards the atmosphere uncontrollably.
About 21 metric tons of debris from space will hit on Earth's surface but no one knows the exact location and the time.  "Scientists know that space junk will enter Earth's atmosphere somewhere between approximately 41.5 degrees north latitude and 41.5 degrees south latitude based on the trajectory of the rocket". according to Accuweather.com, this zone includes some of the world's largest cities, but it also includes large swaths of the vast Pacific Ocean, Indian Ocean, and the Atlantic Ocean.
This space debris is the world's largest space junk to fall back onto Earth's orbit so far, and the worst is that no one knows exactly where it'll land.
코리일보
Coree ILBO copyright © 2013-2021, All rights reserved.
This material may not be published, broadcast, rewritten, or redistributed in whole or part without the express written permission.