상.하원에서 상정된 이민법 개정안이 상원에서 68:32로 가결 되었으나 하원 공화의원들의 손에서 벗어나지 못하고 있어서 많은 이들의 가슴을 조이고 있는 현실이다.  기다리다 못한 오바마 대통령이 행정명령으로 이민법에 대해서 서류 미비 이민자들에 대해 가족이 함께 살 수 있는 길을 조금이나마 열어주는 길을 발표했다. 즉 16세이하의 청소년들이 지난 2010이전에 미국에 들어온 자들의 추방을 유예한다는 것이었다. 이런 이유로 적어도 180,000 한인들이 숨어서 움추리고 살던 그 설움에서, 불안함에서 다소 숨통이 트였다고 해도 과언이 아니다. 그런데 최근 텍사스 주지사로 선출된 Greg Abbott 을 비롯한 남부 17개 주의 주지사들을 위시하여 하원 의원 들이 힘을 합쳐 오바마 대통령의 행정 명령이 권력을 남용했다고 말하며 이는 헌법에 위배된다고 말하며 고소한다고 으름장을 놓고 있다.
12월 4일 하원의 트라이앵글에서 민주당의 리더인 낸시 펠로시를 비롯한 스터니 호여, 사비에 배케라 등이 함께 입장을 밝히며 공화당은 더 이상 변명하지 말고 영구적인 이민법 개정안을 통과 시키라고 하는  기자회견을 가졌다.

나카섹의 기사를 인용하면, "The President's newly issued DAPA program means that my whole family can stay together and live in the United States legally. Today, at the White House, I shared how this opportunity will make it possible for my family to contribute to this country. I was disappointed that the House is trying to block students like me and our families from realizing the American Dream," said Bati Tsogtsaikhan, a student at George Mason University who met with Cecilia Muñoz, assistant to the President and Director of the Domestic Policy Council, at the White House, along with five other DREAMers who will benefit from administrative relief.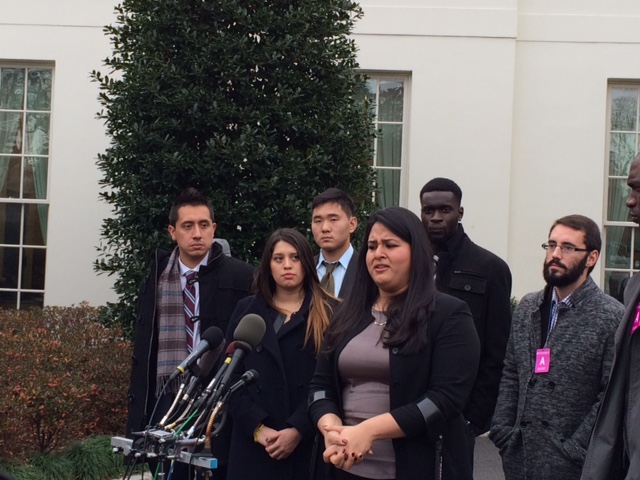 Dae Joong (DJ) Yoon, Executive Director of NAKASEC, said: "The President has recently announced a historical executive action that will impact the lives of millions of immigrant families, including over 48,000 Korean Americans. Although these executive actions are not perfect and leave out many hopeful families, we want to celebrate this victory and help our eligible community members apply for these programs. Issuing executive orders to offer temporary relief to undocumented immigrants through deferred action is not a new concept. Earlier this year, the House failed to move an immigration reform bill forward, and has now decided to vote for a bill that prevents President Obama and all future Presidents from expanding DACA and implementing additional deferred action programs like DAPA, which would protect parents of U.S. citizens and lawful permanent residents. This is a sure way to lose face with the immigrant community."
"Nearly 44 percent of the 180,000 undocumented Korean Americans, many of whom are in California, will qualify for temporary protection under the President's recent administrative relief programs on immigration. NAKASEC, KRC, and KRCC have been helping the Korean American and AAPI communities apply for DACA since its implementation in 2012. We have been creating in-language materials and holding community meetings with community members, anticipating the day when USCIS will begin accepting applications for the expanded DACA and DAPA programs. We are deeply disappointed to hear news about the House's attempt to strip away this hope that was brought to our community," said Hee Joo Yoon, Executive Director of KRC.
Inhe Choi, Executive Director of KRCC, said: "The House's claim that the President has overreached his authority is simply false. Congress must stop exhausting efforts to undo the President's first step to address our broken immigration system. The targets of such anti-immigrant bills are family members who want to become registered and documented taxpayers who contribute to our society. Now that the President took the first step, Congress must finish the job by passing comprehensive and lasting immigration reform that includes a pathway to citizenship."
코리일보
CoreeILBO copyright (c) 2013-2014, All rights reserved.
This material must not be published, broadcast, rewritten or redistributed in whole or part with out the express written permission.